December 2018
Required CE with James Williams (Tue. 11 Dec, 2018 8:30 am - 5:00 pm)
Day One - MREC Approved Required 8 Hours: License Law - 2 Hours, Contracts - 2 Hours, Agency - 4 Hours.

Gulfport (DeBuys), MS, 141 DeBuys Road, Gulfport, MS 39507 (US).

Classes are located at:
REALTOR® Building
141 DeBuys Road
Gulfport, Mississippi 39507

Sign-In begins 30 Minutes prior to class time.

Space reservations will be held for 7 days pending receipt of administrative fees (when applicable). There are no partial or pro-rated administrative fees.

There is an additional $25 walk up fees if reservations are not made in advance.
Walk up's will be only be admitted if space is available the day of the class.

Space for the Gulf Coast classes is limited by the local fire code and the State of Mississippi. Pre-registration is recommended to ensure space.

Date:
12/11/2018
Time:
08:30 am -05:00 pm
Sponsored By:
Elective CE with James Williams (Wed. 12 Dec, 2018 8:30 am - 5:00 pm)
Where:
Gulfport (DeBuys), MS, 141 DeBuys Road, Gulfport, MS 39507 (US).


Classes are located at:
REALTOR® Building
141 DeBuys Road
Gulfport, Mississippi 39507

Sign-In begins 30 Minutes prior to class time.

Space reservations will be held for 7 days pending receipt of administrative fees (when applicable). There are no partial or pro-rated administrative fees.

There is an additional $25 walk up fees if reservations are not made in advance.
Walk up's will be only be admitted if space is available the day of the class.

Space for the Gulf Coast classes is limited by the local fire code and the State of Mississippi. Pre-registration is recommended to ensure space.

Date:
12/12/2018
Time:
08:30 am -05:00 pm
Sponsored By:
GCAR Christmas Party (Thu. 13 Dec, 2018 6:00 pm)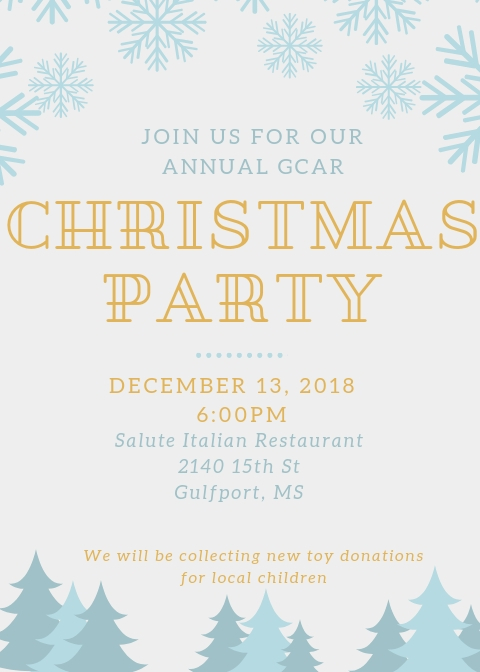 MLS Basic Training (Tue. 18 Dec, 2018 9:00 am - 11:00 am)
Basic Flex MLS Training
Topics covered:
How to sign in
Setting up your personal dashboard
Adding Contacts
Setting up notification notices for expiring listings
Adding Listings
Auto Notifcations
and More!
Class begins at 9am at The REALTOR® Building
Registration is free and for all members.
Christmas Holiday- Office Closed (Mon. 24 Dec, 2018 8:00 am - Tue. 25 Dec, 2018 5:00 pm)
Christmas Holiday- Office Closed (Mon. 24 Dec, 2018 8:00 am - Tue. 25 Dec, 2018 5:00 pm)
Powered by JCal Pro - the Joomla Calendar